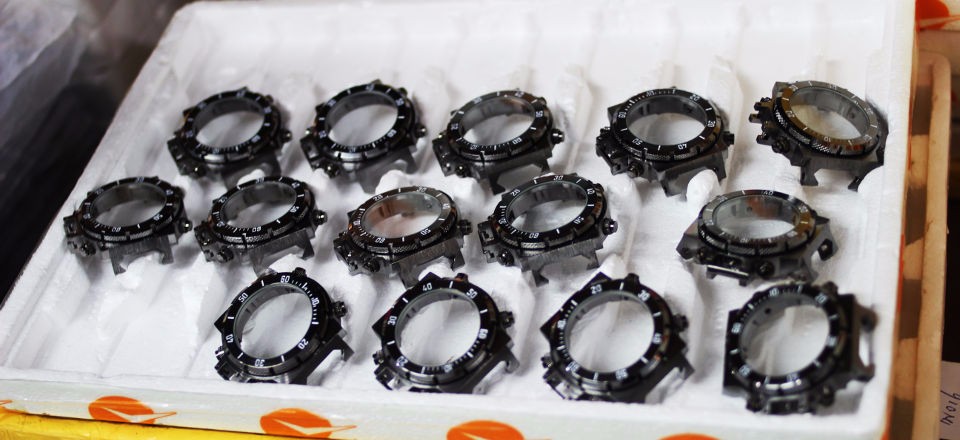 During a visit to Shenzhen, I had the opportunity to ask a few critical questions to a leading, unnamed, Watch manufacturer. Keep reading, and learn more about compliance and risks in Watch manufacturing – lessons that can be applied to virtually any industry.
Can you ensure compliance with REACH, RoHS, CA Prop 65 and other substance regulations?
Yes, as our main markets are the United States and the European Union, we must ensure compliance with a variety of standards and regulations. Among them are those you just mentioned: REACH, RoHS and California Proposition 65.
However, our responsibility is limited to what we produce and assemble. Some components, for example, the battery and the movement, are supplied by international brands. For movements, you probably already know about Seiko, Citizen Miyota and Ronda. These are RoHS compliant, and we can get complete documentation directly from them. The same goes for the battery, which is purchased from Seiko, Sony or Samsung, all of which produce batteries according to EU and US battery regulations.
How is this affecting the pricing of your watches?
REACH and RoHS compliant material cost more than the material that is not compliant. There are only some very small, and rather unprofessional, buyers that don't understand this.
All of our established buyer's in foreign countries always understand that it cost more. A watch case can be made in many different materials, and there are also different qualities of different materials. The cost difference is not that big anyway, so this is rarely an issue.
As you purchase components, for example, watch cases and straps, from a large number of specialised subcontractors, how do you ensure that the incoming materials are compliant?
We request material sheets from our subcontractors, for the materials we buy. This can, for example, be a 316L Stainless Steel Watch Case. When we procure the components for our customers, which we do for every order, we tell our material suppliers which standards and regulations the material must be compliant with. If we must ensure REACH compliance, we then communicate that we need a REACH compliant case.
Today, about 70% of our components are REACH and RoHS compliant. But this is because we mostly export to Europe.
So, that implies that the buyer must communicate all applicable standards before placing the order?
Yes, we just tell component suppliers to which standard they must comply. We forward the requirements that our customer has informed us of. If they don't inform us, it's very hard for us to know exactly what is required in their country.
Do you test the incoming materials yourself?
No. We just check the documents of our supplier. Like most, if not all, watch manufacturers in Shenzhen, we don't have our own laboratory. We can, of course, send incoming materials to a third party company, like Intertek or SGS, but this cost is charged to the buyer. If we would include testing for every order, we would need to increase our prices. It would make us look very uncompetitive.
I assume this also applies to product labelling?
Yes, of course. We can offer some support with graphical design. For example, we always create a concept design for the customers approval before we start making the prototype. But, we don't know exactly how a product must be marked in every state or country around the world. The customer gives us the graphical files, and then we print or engrave it.
What other product regulations and standards do you have experience with?
Different customers have different requirements. What I can remember right now is ASTM standards, EN 71 and various heavy metal tests. For straps, we are also required to restrict Phthalates.
Do you normally handle all testing procedures or this is something managed entirely by the customer?
Normally this is done entirely by the customer. We just send the samples to their test company in Shenzhen or Hong Kong, and they do the rest.
Hence, most, if not all, test reports are issued in the customer's name?
Yes, because if they book the test, then the test reports are issued in their company name. However, we also have some test reports issued in our company name to show. This is often required by new customers who want to check up on us before we start working together.
Do your buyers normally submit batch samples for every order?
Some do, but not all. One customer, a French fashion company, do testing on all orders, both for REACH and RoHS, and for every part. Even the glass. They are very strict. Others do a test on maybe every second or third order. It's up to the customer.
Our Conclusion
Things are never as simple as just "finding the right manufacturer". Ensuring compliance, one of many challenges when buying from China, is ultimately your responsibility as a buyer.
While the suppliers capabilities are indeed a pre-condition, the supplier shall never be considered a "one stop shop". Hence, the role of the importer today is more that of an engineer, or product developer, than a trader in its traditional sense.
You must also keep in mind that this Supplier Q&A was done with an industry leading manufacturer, with big brand names and a backlog dating back to the early 90s. The vast majority of suppliers out there are not as resourceful as this one. In fact, most would not even bother to answer these questions, or struggle to do so.
These lessons are not only of value for watch brands. The same dynamics apply in all industries where substance control is relevant. This includes, for example, apparel, textiles, toys, children's products, food contact materials, furniture and... well, the list goes on.
Content Disclaimer
All data and information provided in this article is for informational purposes only and neither the author nor Alibaba.com makes any representations as to the accuracy, completeness, currentness, suitability, or validity of any information in this article.
Neither the author nor Alibaba.com will be liable for any errors or omissions in this information or for any losses, injuries, or damages arising from its display or use.