U.S. import growth returned with a bang in March, Panjiva data shows, as seaborne shipments increased 7% for the month on a year earlier and 1.4% for the quarter. The biggest contributor was China with a 21% growth rate, which may prove awkward in the wake of President Trump's meeting with President Xi. It was also the fastest monthly growth since the aftermath of 2015's west coast port strikes. Among key products there was a 10% rise in autos and their components while iron and steel increased 25%. Only apparel continues to struggle with a tenth straight slide. The expansion in imports may be following fundamentals rather than attempts to anticipate trade policy. Consumer confidence has hit its highest since December 2000 and business import expectations remain positive.
U.S. import growth returned with a bang in March, with seaborne shipments rising 7.0% on a year earlier, Panjiva data shows. Despite a weak February result for imports, as discussed in Panjiva research of March 28, this meant the first quarter experienced a 1.4% rise in shipments. The March growth was the fastest since December's 9.1% increase, though it was 13.7% below 2015's level which included the aftermath of the west coast shipping strikes.
GREAT GROWTH IN U.S. IMPORTS
Note data is provisional due to late reporting shippers Source: Panjiva
On a geographic-basis the biggest contributor to growth was a 20.9% increase in imports from China and Hong Kong. That return to growth, following a reduced deficit the month before, may add some friction to any follow-up talks after Presidents Xi and Trump met on April 6/7. The growth rate was the fastest since the 2015 shipping disruptions.
Shipments from Vietnam, which is increasingly a production hub for industries ranging from renewables to telecoms, increased 22.2%. The main loser was South Korea, which saw a second month of declines with 10.6% fewer shipments. That contrasts with its strong global export performance.
PRESIDENT XI'S ADVANCE PARTY?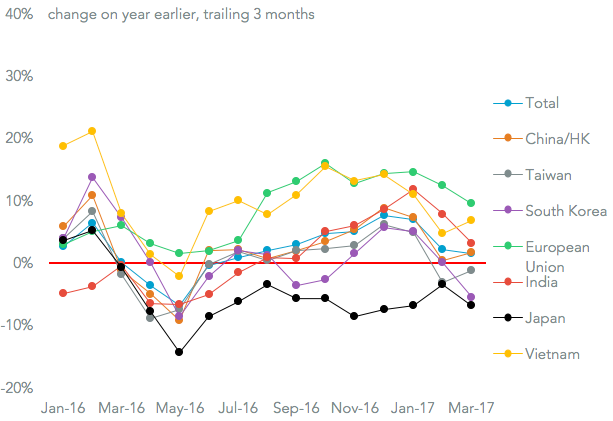 Note data is provisional due to late reporting shippers. Figures shown on a 3 month trailing basis to adjust for lunar new year holidays Source: Panjiva
One item that will be particularly unwelcome to the Trump administration will be the rise in imports of autos and components. These increased 9.6% in shipment terms, the eighth straight month of growth and the fastest undisrupted rate since October 2014. Iron and steel imports also rallied, rising nearly 25.3%. That may cause the Commerce Department to take another look at the industry. Among consumer goods furnishings returned to growth, with a 19.8% rise while apparel extended its losing streak to a tenth month.
NO FEAR!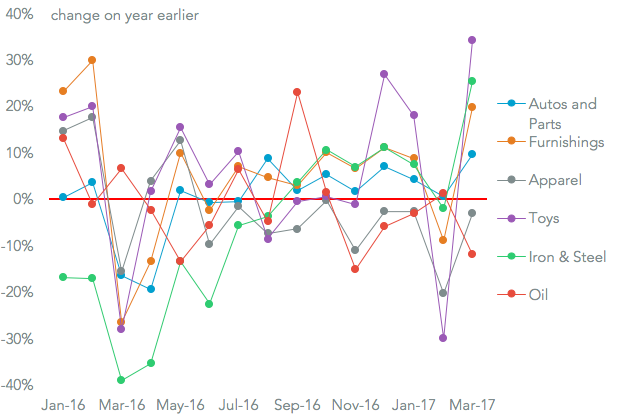 Data for shipments segmented by HS code for furnishings (HS 9401/3), autos and parts(8703/8), apparel (6110/6204), toys (9504), steel (7304/6/7) and oil (2709). Note data is provisional due to late reporting shippers. Source: Panjiva
The import acceleration may be following fundamentals rather than concerns (or otherwise) about trade policy action. Consumer confidence in the U.S. hit its highest since December 2000 in March according to CNBC, while business import expectations remained in positive (if slowing) territory. In the previous six years around 23.0% of full year imports had been completed. On the basis of progress so far this year that would suggest imports for the year could rise 2.6% on a year earlier, though it is very early to be making a firm prediction.
SHAPING UP FOR ANOTHER RECORD YEAR, BUT EARLY DAYS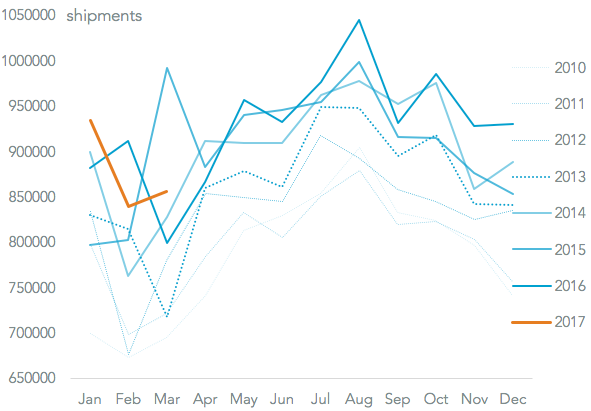 U.S. seaborne shipment data segmented by month Source: Panjiva
Content Disclaimer
All data and information provided in this article is for informational purposes only and neither the author nor Alibaba.com makes any representations as to the accuracy, completeness, currentness, suitability, or validity of any information in this article. Neither the author nor Alibaba.com will be liable for any errors or omissions in this information or for any losses, injuries, or damages arising from its display or use.