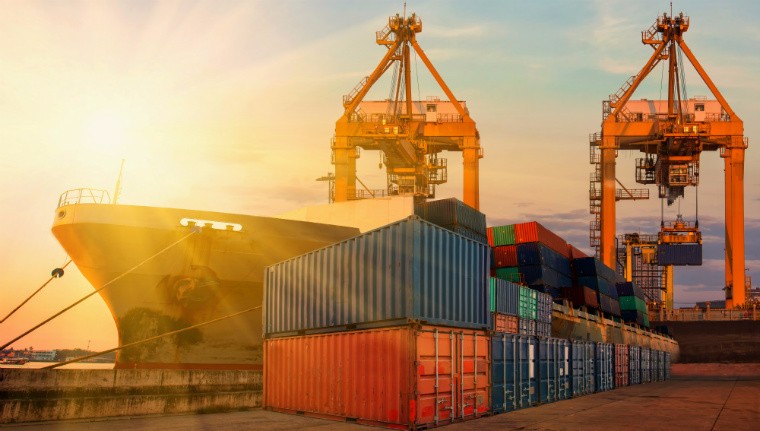 1.M&A – Done Deals or Regulatory Risks?
The extended period of low shipping rates seen in 2016 was just one driver of several major mergers and acquisitions announced in the second half of the year, as discussed in Panjiva research of December 30. The key issue for these deals in 2017 will be regulatory approval.
The U.S. Department of Justice already made it clear it was concerned about the impact of Alliances on shipping services, which – at least in the case of THE Alliance – the Federal Maritime Commission ignored.
Clearance is not simply a matter of U.S. market share, however. The acquisition of Hamburg Sud by Maersk would give the combined entity 36.6% of the Brazilian marine shipping business in the three months to October 31, Panjiva data for imports and exports shows, or 55.5% if including the 2M Alliance more broadly. The three-way merger of Mitsui-OSK, K-Line and NYK could founder on its ownership of a broad portfolio of ports.
GREAT WORK, IF YOU CAN GET AWAY WITH IT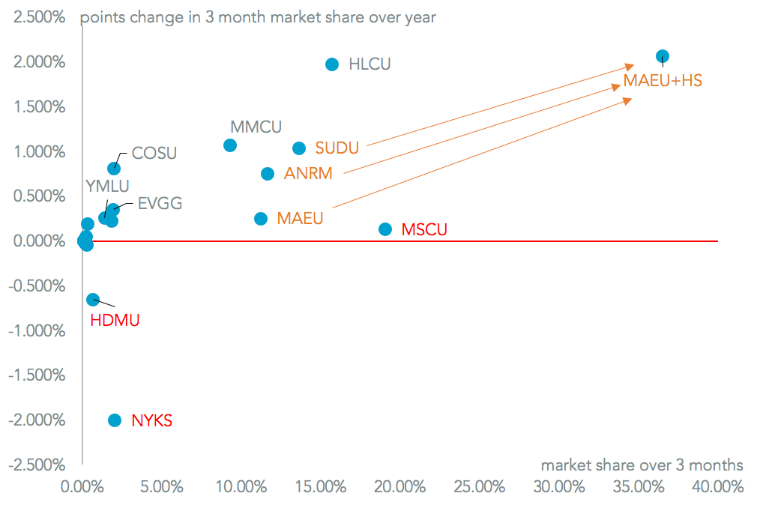 Calculations based on sum of Brazilian import and export shipment data for three months vs. same period a year earlier Source: Panjiva
2.Rate Recovery – New Orders or Securing Scrapping?
One of the major drivers of lower shipping rates seen in 2016 was the oversupply of vessels. One encouraging sign for rates, if not for shipbuilders, has been the decline in orders for new vessels. The orderbook held by Chinese shipbuilders fell to its lowest since at least November 2011, data from CANSI shows, though this still equates to 28.5 months of continued construction. One question though is whether the government will be content to see the $13 billion of annual export revenues, shown by Panjiva data, evaporate.
Cancelling orders is a quick fix, but reduced capacity also requires scrapping. This has begun to pick up, with around 700,000 TEUs being scrapped in 2016 according to Braemar ACM, or around 3.4% of global capacity based on Alphaliner figures.
28 MONTHS IS NOT VERY LONG
Calculations based on CANSI data. Note data for Jan/Feb is reported in Feb Source: Panjiva
3.Revenues – Sailing Alone or Stopping for Passengers?
A recovery in shipping rates due to reduced competitive pressure should help the revenues of the shipping companies. While this may take several quarters to fully work through, they had already begun to improve with a 2.2% sequential increase in industry revenues in the second quarter of 2016 and 0.9% in the third quarter. Analyst expectations are for this to continue, with a 2.9% increase implied for the fourth quarter (including acquisitions) compared to the third, and an average 1.9% increase in revenues for 2017.
This would be the first full year of increases after an average 16.8% drop between 2013 and 2016, including the demise of Hanjin Shipping. Not all companies saw a decline, however, with Hapag-Lloyd and K+N growing by 21.1% and 16.1% respectively. This was due to acquisitions rather than simply organic growth. Putting aside Maersk's acquisition of Hamburg Sud, 2017 may bring other, smaller acquisitions – particularly of second-tier operators as discussed in Panjiva research of December 13.
DO A DEAL OR SPIN THE WHEEL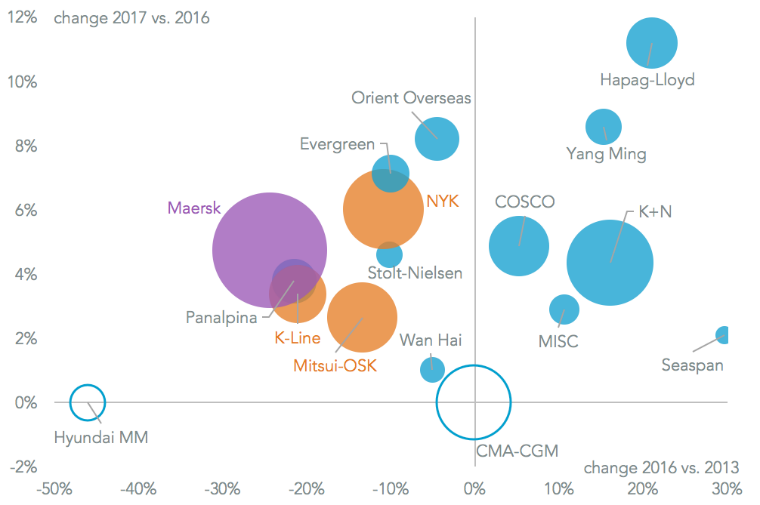 Calculations based on company financial statements and analyst consensus forecasts gathered by Bloomberg. Note estimates are not available for Hyundai MM and CMA-CGM. Bubble size indicates 2016 revenues. Source: Panjiva
4.Fuel Costs – Filling Up Costs, or Time to Switch Pumps?
Bunker fuel for delivery into New York closed the year at a new high of $315 per metric ton. This is likely the result of the anticipation and then delivery of an OPEC agreement, discussed in Panjiva research of December 1, that boosted oil prices 82% from their February lows. Futures markets currently show a further 6% increase in the cost of crude oil next year, suggesting shippers will need to raise rates to offset higher costs.
The outlook for shippers' fuel costs will also be a function of environmental restrictions. New regulations agreed by the International Maritime Organization will cap the level of sulfur emissions from 2020, and therefore will require the steady phase-in of the use of more expensive marine diesel instead of heavy fuel oil. Shippers are also considering the use of liquefied natural gas as a fuel source, with Tote launching the first such vessel in October.
FUEL COSTS GETTING HIGH ON OPEC
Calculations based on data from Bloomberg and Ship & Bunker. Index rebased 4/1/16 = 0 Source: Panjiva
5.Panama Canal – Panning-Out or Plateauing?
The extension to the Panama Canal to handle the shipment of 'neopanamax' vessels of over 107 feet was completed in 2016, with the first vessels of the higher capacity handled in June. Official figures show that in number of shipments the Canal actually handled 5.6% fewer vessels on a year earlier in November. Yet, adjusting for the capacity of the larger vessels the canal may have handled 15.3% more volumes than a year earlier, as discussed in Panjiva research of December 9.
It remains to be seen whether there will be further growth in 2017. One bearish indicator is that quantities handled fell 2.2% in November vs. October, and slot bookings fell to 47.8% from 64.2% a year earlier. More positively though the U.S. south-east ports have gained in their share of shipments from China, Panjiva data shows. Additionally data for the Suez Canal shows that it handled 3.1% less volumes (in laden tons) than a year earlier in November, the ninth straight drop.
TRANSITS DOWN, GROWTH IN VOLUMES AT A PLATEAU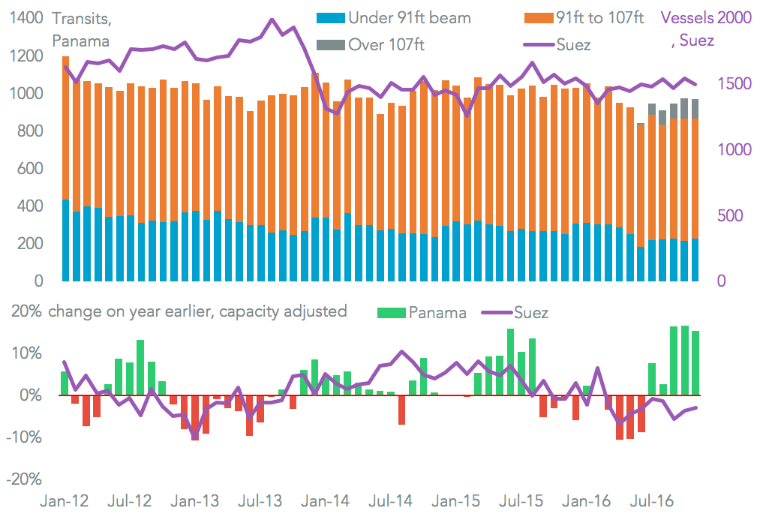 Calculations include data from the Panama Canal Authority (top panel, left hand axis) and Suez Canal Authority (top pane, right hand axis). Capacity adjusted index for Panama Canal based on assumption that vessels >107 feet have 13x the capacity of those <91 feet="" capacity="" adjusted="" data="" for="" suez="" canal="" based="" on="" reported="" tonnages="" source:="" panjiva="" span="">
6.Container Services – Reefer Madness, or Mad Not To?
Shippers including Hapag-Lloyd, Maersk and NYK all made significant investments in new refrigerated container capacity, or reefers, during 2016. The question for 2017 is whether we will see overinvestment, as was the case in containerized transport broadly in 2016, or if the companies' investments will be proven worthwhile.
Panjiva data for U.S.-bound imports using refrigerated containers is not good – shipments dropped 5.2% for 2016 overall, and dropped on a year-over-year basis for 10 of the 12 months. Looking outside the U.S. though the picture is more positive. Exports of tropical fruits from seven central and south-American countries (including Brazil, Colombia, Costa Rica, Mexico, Paraguay, Peru and Uruguay) increased steadily, with shipments to Asia increasing 11.7% in the 12 months to October 31 after rising for eight straight months.
GO (FURTHER) WEST YOUNG FRUIT SELLER
Upper panel shows export data aggregated for Brazil, Colombia, Costa Rica, Mexico, Paraguay, Peru and Uruguay segmented into HS 0804, 0805 (citrus), 0806 (grapes) and others in shipments to Asia. Lower panel shows U.S.-inbound shipments utilizing refrigerated containers. Source: Panjiva
Content Disclaimer
All data and information provided in this article is for informational purposes only and neither the author nor Alibaba.com makes any representations as to the accuracy, completeness, currentness, suitability, or validity of any information in this article. Neither the author nor Alibaba.com will be liable for any errors or omissions in this information or for any losses, injuries, or damages arising from its display or use.