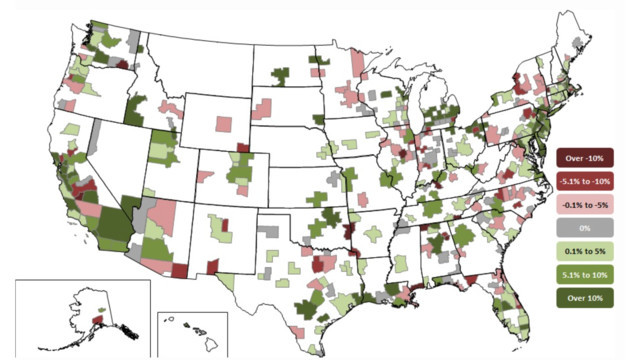 Construction employment increased in 190 out of 358 metro areas, was unchanged in 63 and declined in 105 between December 2014 and December 2015, according to a new analysis of federal employment data released by the Associated General Contractors of America. Association officials noted that many firms expect to continue expanding their headcount in 2016 as demand continues to grow for different types of construction.
"There were nearly twice as many metro areas adding construction jobs in 2015 as there were areas losing jobs," said Ken Simonson, the association's chief economist. "Considering current economic trends and our members' forecasts, many firms should continue hiring workers this year as demand expands."
Anaheim-Santa Ana-Irvine, Calif. (10,500 jobs, 13%) added the most construction jobs during the past year. Other metro areas adding a large number of construction jobs include:
· Riverside-San Bernardino-Ontario, Calif. (9,000 jobs, 12%)
· Chicago-Naperville-Arlington Heights, Ill. (8,900 jobs, 8%)
· Los Angeles-Long Beach-Glendale, Calif. (8,100 jobs, 7%)

The largest percentage gains occurred in:
· Weirton-Steubenville, W.Va.-Ohio (60%, 900 jobs)
· Huntsville, Ala. (18%, 1,400 jobs)
· Grand Rapids-Wyoming, Mich. (16%, 3,000 jobs)
· Saginaw, Mich. (16%, 400 jobs)
· Honolulu, Hawaii (14%, 3,800 jobs)

The largest job losses from December 2014 to December 2015 were in Fort Worth-Arlington, Texas (-4,300 jobs, -6%) followed by:
· Detroit-Dearborn-Livonia, Mich. (-1,800 jobs, -8%)
· Dallas-Plano-Irving, Texas (-1,600 jobs, -1%)
· Minneapolis-St. Paul-Bloomington, Minn.-Wisc. (-1,600 jobs, -2%)

The largest percentage declines for the past year were in:
· Gulfport-Biloxi-Pascagoula (-14%, -1,200 jobs)
· Florence-Muscle Shoals, Ala. (-14%, -500 jobs)
· Fort Smith, Ark. (-14%, -1,000 jobs)
· Anniston-Oxford-Jacksonville, Ala. (-13%, -100 jobs)
· Hanford-Corcoran, Calif. (-13%, -100 jobs)
·Walla Walla, Wash. (-13%, -100 jobs)

Association officials said the new metro jobs data is consistent with the results of the group's 2016 Construction Hiring and Business Outlook. Seventy-one percent of firms who participated in the Outlook reported they plan to expand their headcount this year. Yet a similar share, 70%, reported they are already having a hard time finding enough qualified workers to fill positions, which is why the association continues to push for measures to recruit and prepare new construction workers.
"Most construction firms expect to continue expanding this year," said Stephen E. Sandherr, the association's chief executive officer. "The biggest challenge many firms are facing is finding enough workers to meet available demand."